MOSAIC EVENTS SCHEDULE
Event Classes
Besides offering workshop classes I am now offering Mosaic Events. This will give you the opportunity to take a complete class in one session . All students will be working on an individual project per event . This is a good opportunity to try your hand at mosaic. All materials and use of my tools are included in the price of the class . The length of the class varies with the size and complexity of each event . Each event will be limited to 10 students so reserve a spot early .
Mosaic Picture Frame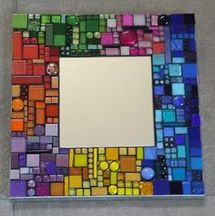 I will be holding All Inclusive Make and Take class on the weekends during these hours
12:00 -4:30 PM Saturdays
1- 5 PM Sundays
The classes will consist of a small project of your choice which you will finish and take home. Some choices will be a frame, a birdhouse, a trivet, a set of coasters and flower pots. The classes will take anywhere from 2.5 - 4 hours to complete depending on the size of your project.
This class is good for all ages and skill levels. No former experience necessary . You will learn mosaic and grouting techniques, design and color theory in a fun and relaxing environment. All materials and use of tools are included in the cost of the class.
This class is perfect for family fun !
The cost is $15.00 per hour with partial hours pro-rated.
You may attend any time during these hours but remember to allow yourself time to complete your project .
Because of class size limits you MUST rsvp ar least 12 hours in advance. No walk ins please.
We follow these covid guidelines: you must be vacinated ,no more than 10 students will be allowed to attend at one time
I sanitize all tools and materials before each class.
PAYMENT OPTIONS THAT ARE AVAILABLE AT TIME OF THE CLASS
Paypal, Venmo, credit card ,cash, personal check
contact me at 323 547-2021 if you wish to purchase a gift certificate

There is one hour parking on Colorado (Sunday is non-restricted)and plenty of non-restricted parking on the side streets.

*Please contact me if you would like to have a mosaic party at your home.
Call or Text 323 547-2021 or email nsamstudio@gmail.com to reserve a space